Jami Sorrento was our June Daring Cooks hostess and she chose to challenge us to celebrate the humble spud by making a delicious and healthy potato salad. The Daring Cooks Potato Salad Challenge was sponsored by the nice people at the United States Potato Board, who awarded prizes to the top 3 most creative and healthy potato salads. A medium-size (5.3 ounce) potato has 110 calories, no fat, no cholesterol, no sodium and includes nearly half your daily value of vitamin C and has more potassium than a banana!
If all of that is not a good reason to eat potatoes, I don't know what else is. Oh yeah I do, they're super tasty! I will say, there is something about being pregnant that brings out potato cravings. Generally though the things people add to potatoes are what make them not the healthiest snack. Fried, covered in mayo or oil, stuffed with butter and sour cream... really takes down the health factor of potatoes. Jami wanted to challenge us to create a healthier potato salad that wasn't all mucked up by all those ingredients that taste really great but don't do anything for you if you're watching your waist line.
I decided to combine potatoes with one of my favorite things: avocado. I thought I would make a creamy avocado "sauce" to go with the potatoes and other vegetables instead of using any other condiments. This turned out so good y'all. The avocado went so well with the other ingredients and, although avocados are high in fat, they are high in healthy fats. They're pretty much nutritional power houses. I also used a little bit of olive oil, which is also a healthier fat when used in moderation.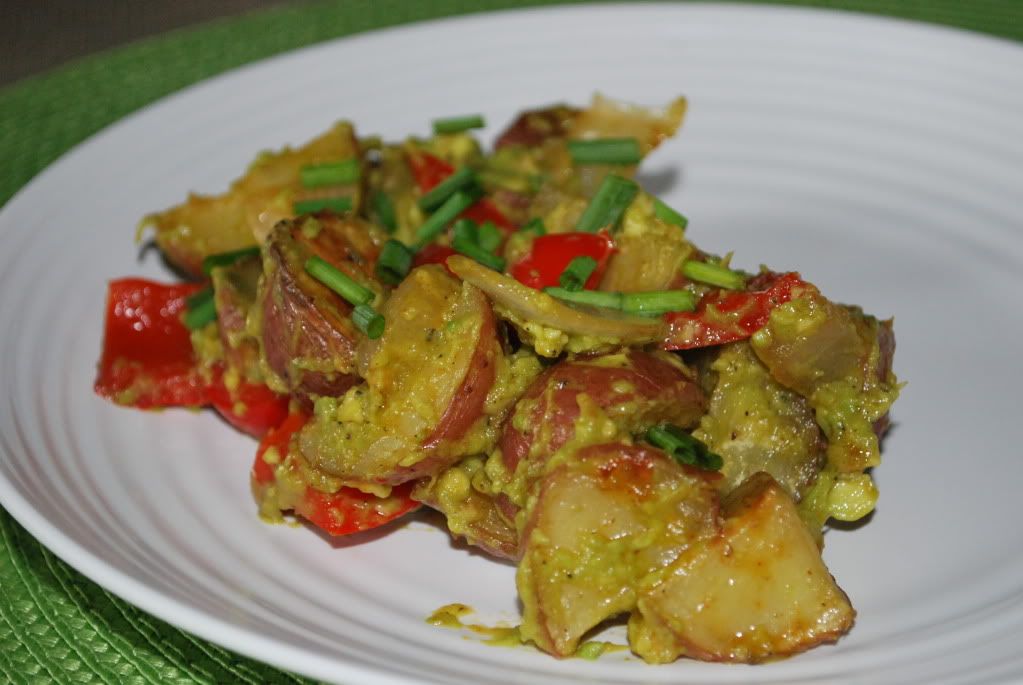 Roasted Potato Salad
serves 4
1 1/2 pounds baby red potatoes, quartered
1 medium red bell pepper, chopped
1/2 yellow onion, chopped
1 medium avocado
3 cloves garlic, minced
1 1/2 tablespoons olive oil
1 tablespoon lemon juice
Handful of chives, chopped, for garnish
Salt and pepper to taste
Preheat the oven to 350 degrees.
Toss the potatoes with a 1/2 tablespoon of olive oil and place on a baking sheet. Season with a sprinkling of salt and pepper. Bake for roughly 45 minutes, or until tender. Towards the end of the cooking time for the potatoes, start to saute the bell pepper, onion and garlic with the addition tablespoon of olive oil until they are tender and the onion is slightly translucent. Season with salt and pepper.
Mash the avocado in a large bowl with the lemon juice until the mixture is creamy. Add the sauteed vegetables and the roasted potatoes. Combine until the vegetables are coated with the avocado. Plate the dish then sprinkle the chives over the top.
For those of you who are interested, here's the nutritional breakdown of the dish. The potato salad went excellently with a grilled pork chop!
Nutrition Facts
Serving Size 275 g
Amount Per Serving
Total Carbohydrates
35.2g
12%
| | | |
| --- | --- | --- |
| Vitamin A 22% | • | Vitamin C 132% |
| Calcium 3% | • | Iron 9% |
* Based on a 2000 calorie diet