Alright! Here it is for real this time.
Ready to be filled!
The February 2011 Daring Bakers' challenge was hosted by Mallory from
A Sofa in the Kitchen
. She chose to challenge everyone to make Panna Cotta from a Giada De Laurentiis recipe and Nestle Florentine cookies.
Awaiting their chocolate drizzles...
This challenge was
so
fun. Honestly, both the panna cotta and the cookies were insanely easy. I was so excited to take pictures of them outside on the deck today but it has been dreary and rainy all day long! Bummer!
I did encounter a few issues. The first being, I made my strawberry gelee right after putting my panna cotta in the fridge. Not a smart move on my part. I would recommend waiting a few hours before making a gelee, if you even do, because the panna cotta needs time to set first. So, my gelee just kind of hung out for a bit. I also will probably not even make the gelee if I do panna cotta again, however, as it was a bit too gelled... it tasted a bit rubbery and I wound up eating around it. I might not have added enough fruit. Another issue, my Florentine cookies didn't seem to spread as much as they should have. Not sure what the issue was, but they were still pretty tasty.
I would like to make both of these desserts again. Next time I make the cookies I will probably cut back on the sugar a little bit. They were right on the cusp of being too sweet. The panna cotta, though, was spot on (minus the gelee).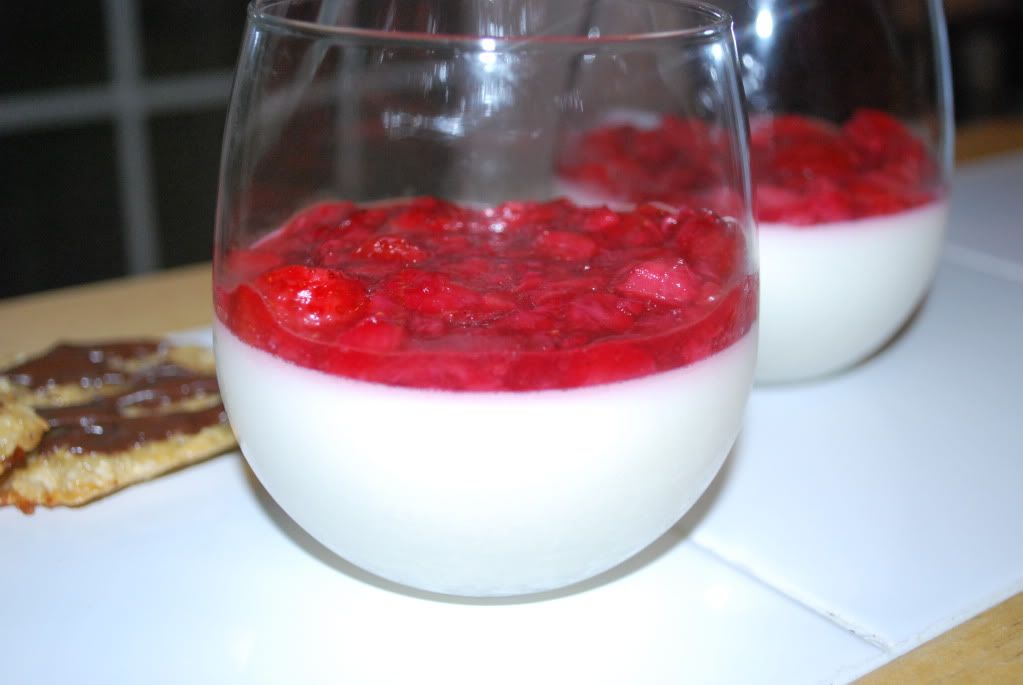 XO