I love stuffed mushrooms. Love them. When they're done well. This is interesting to me because up until I was about 21 I
HATED
them. With a fiery passion. If anything had mushroom at all in it, I hated it. Over the last few years though the little fungi have grown on me.
For dinner tonight I combined two of my favorite things, stuffed mushrooms and goat cheese. And yes it is as fabulous as it sounds. I kept everything else pretty simple. I think next time I will add a little something to the cheese mixture. Bacon, chopped nuts, and/or breadcrumbs were all on my list of ideas. I also baked some more squash to go with the mushrooms, but this time without any breading. I just added a small dollop of the stuffing I used for the mushrooms (as I had a bit leftover). Both the mushrooms and the squash were delicious, and fairly filling, but I will say they are probably not best together as a dinner. I had to eat some peanut butter and crackers 30 minutes later for some protein! I think both or either would be great with a pork chop.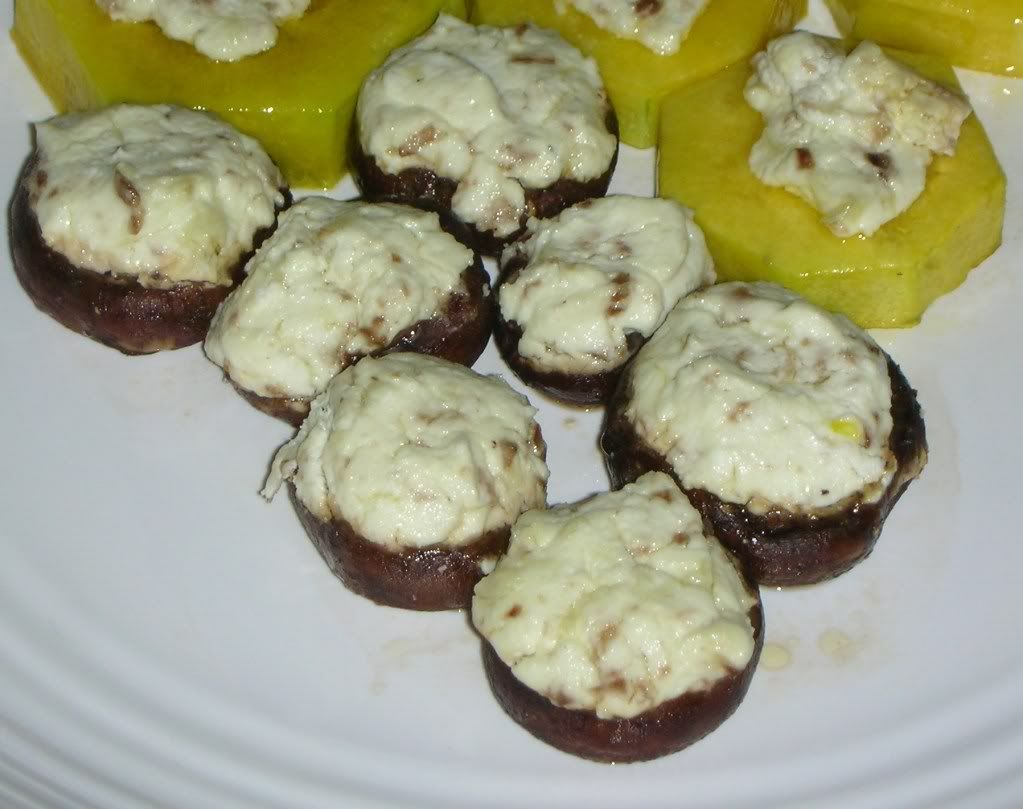 Goat Cheese Stuffed Mushrooms
serves 1-2
8 baby bella mushrooms
3 ounces goat cheese
1 clove of garlic
2 teaspoons olive oil
salt
Preheat the oven to 350 degrees.
With a damp rag or paper towel, gently wipe the dirt off the mushrooms. Take the stems out. Finely chop about half of the stems, place in a bowl. Mince the garlic, add to the bowl. Add the goat cheese and olive oil. Combine the ingredients in the bowl. Spoon a small amount of cheese mixture into the cavity of each mushroom cap. Sprinkle with salt.
Spray a baking sheet with cooking spray, place the mushrooms on the sheet, spray the tops of the mushrooms with the cooking spray. Cook for 20-25 minutes.
So good! My pictures didn't turn out great but I am super excited about something. Did you notice?! A new plate! Yes, I get excited over things like that. Haha.
XO