Let me start out by saying Hello! To all the readers who popped over here from
*Bitch Cakes*
! Glad to see you guys. And for those of you who don't know, I just won a giveaway that Sheryl was doing for an incredible heart rate monitor! Very exciting stuff. I can't wait to start using it! It will be awesome for the next few months before the baby comes, and then once she's here and I get the go ahead to work out it will definitely help me keep track of getting my butt in gear!
Now, on to the really good stuff: What I ate for dinner. Okay, maybe I just think that's the good stuff. Ha. Regardless, I made a most delicious meal tonight. I think it's pretty funny that I have apparently got my kitchen legs back while the man is gone. He is missing out!! Sorry babe.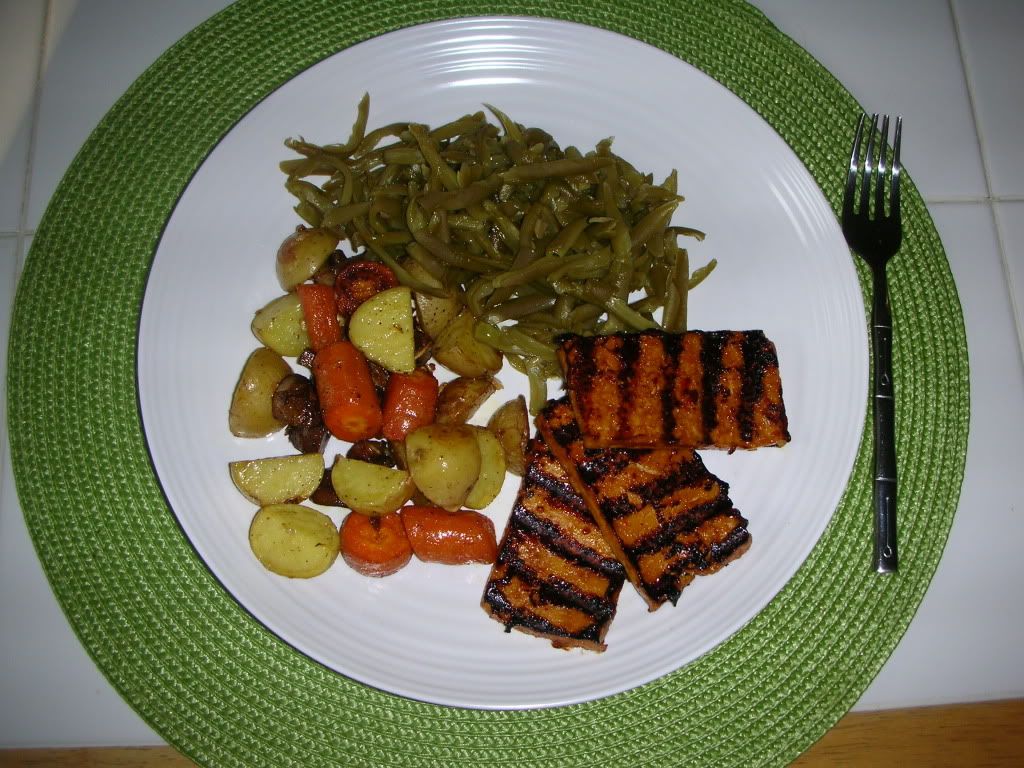 Tonight I made marinated grilled tofu with roasted vegetables and green beans. So good. As far as the marinade goes, it's really a personal taste sort of thing. I never measure when I put a marinade together, and as a result I don't think I ever make the same once twice. For my Asian inspired marinades I use the normal cast of characters.
Then I just kind of add a little of this, a little of that, until it tastes like it would be delicious covering a piece of tofu, chicken, steak, whatever. And yes, for those of you who don't like tofu this marinade would go awesome on pretty much any other type of protein. If you have never tried tofu though, try it first! In fact, try it multiple times before deciding you don't like it. I got some really nasty tasting tofu once in a restaurant and if I had based my entire opinion on that one piece.... well, me and tofu would not be pals.
I let the tofu marinate for a little over an hour, then simply put it on the grill pan. I let each side cook for roughly 4 minutes, or until there are grill marks. If you were cooking meat though you would want to make sure it cooked all the way through.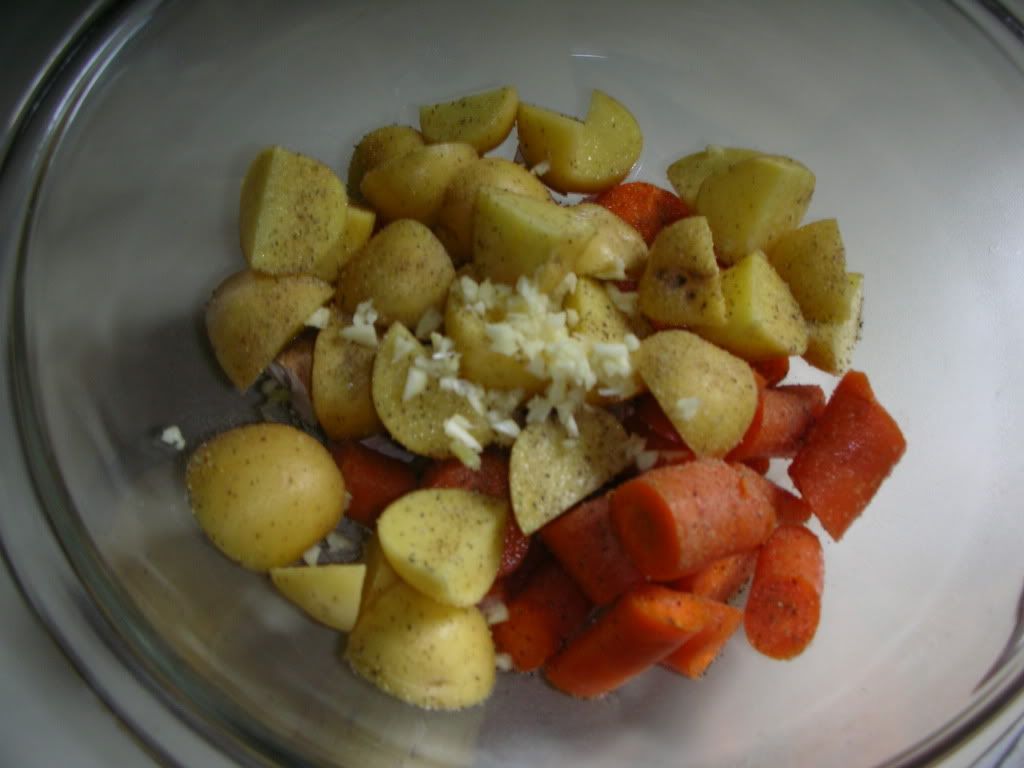 While the tofu was marinating I started on the veggies. Baby potatoes and carrots... and I threw in the last few mushrooms I had as well, because they were lonely and wanted to join the party. Can you blame them? After scrubbing and chopping the veggies into bite sized pieces I tossed them with some olive oil, salt and pepper, and garlic then placed them on a baking sheet and into a 400 degree oven for about 45 minutes. I timed it so these would be coming out right as the tofu was getting done.
And then after dinner I of course ate more blondies. Ha. Luckily I had some visitors yesterday that ate more than half the pan for me, which I greatly appreciated! Now, with the man not here, I get to go do really exciting things like watch ridiculous chick flicks from Netflix. 5 points if you can guess the movie! I'm telling you, it's
ridiculous
and a little bit embarrassing. Ha.
XO