Our May hostess, Denise, of
There's a Newf in My Soup!
, challenged The Daring Cooks to make Gumbo! She provided us with all the recipes we'd need, from creole spices, homemade stock, and Louisiana white rice, to Drew's Chicken & Smoked Sausage Gumbo and Seafood Gumbo from
My New Orleans: The Cookbook
, by John Besh.
Now, as delicious as I'm sure those recipes are there is no possible way they could compare with my family's recipe. So, that is what I will be sharing with y'all. It's really not that different from many gumbo recipes. You have a roux, you have some protein, some okra, a few various other ingredients. What makes it stand apart, and what is it's real secret ingredient, is
time
. No, not thyme, really, time. Lots and lots of time. This is very much a Sunday kind of meal. Or an unemployed housewife all by herself for 3 weeks while her husband is at a training class kind of meal.
Yeah
. I'm making a huge pot of gumbo all for myself. It's probably best though as this was my first attempt at cooking it! I usually leave it to the pros, my step-mother or Grammy.
There's a chicken in there, I swear
If making a seafood gumbo this would be a one day sort of process since you would add the seafood (shrimp, crab, etc) towards the end of the cooking time (unless you wanted to make your own stock, then give it two days), but I decided I wanted to make chicken gumbo, which is more of a two day thing. On the first day I boiled a whole chicken. Bones, skin, everything. Just boil it in seasoned water. As for the seasoning I used salt and Tony Chachere's Creole Seasoning (y'all know I love that stuff!). After the chicken is fall off the bone tender I took it off the heat, let it cool quite a bit, then took all the meat off the bones. This was probably the worst part cause, well... it was icky. Next time I may go the wuss route and just use some chicken breasts instead of the whole thing. I placed the meat in a covered bowl in the fridge and then I placed the liquid from cooking in another bowl, also in the fridge.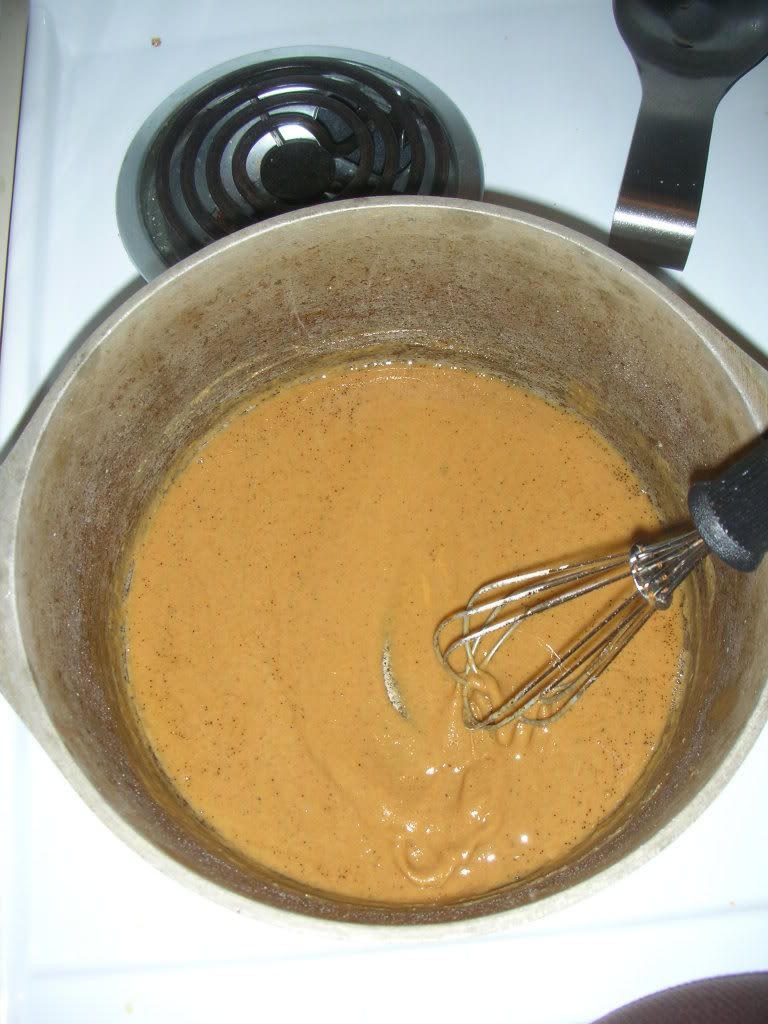 Day two is when it really gets fun. You start by making a roux. I used a 1/2 cup of vegetable oil and a little over a 1/2 cup of flour. Put the oil in a large pot (I used my dutch oven) and heat on high until shimmering. Then quickly reduce the heat to low and add the flour, whisk. Make sure to not let the flour burn. Whisk continuously for about 30 minutes, or until the roux is as dark as you want it (but not darker than a mohagony color). Season the roux while stirring. I used more Tony Chachere's and a little bit of salt. I almost thought I had messed the roux up. I gave it a taste, expecting it to... well, taste good. Let me tell y'all, it does not. It tastes like crap. Flour crap. But I kept at it and I must have done something right cause the gumbo turned out absolutely divine!
Chicken and onions!
Then add the liquid from the the day before. You will have to scrape off the layer of solids from the top first. Keep your whisk handy for this, the cold liquid coming in contact with the roux will immediately cause it to start bubbling. Add as much liquid as you like, I added about 10 cups. Keep any liquid that's left, as you might want to add more later. Let this boil, then lower the heat again and let it simmer for 30 minutes.
Add 1 to 2 onions, chopped, to the liquid. Let this cook for another 30 minutes. Season with your choice of seasoning. Now add the chicken. I added all of the chicken, and it really filled up the pot. You could use less if you would like, but I like lots of chicken. I also added an extra cup and a half of liquid here, as it was becoming quite thick. Let this cook for another 30 minutes.
And the okra joins the party!
Once the time is up from the last step add your okra. You could use a bag of frozen okra or fresh okra if you have it. Let this cook for another 30 minutes. Depending on what type of rice you are going to use you will probably want to start cooking it when you put the okra in the gumbo, or even sooner if it takes longer than 30 minutes. Once everything is done taste and adjust the seasoning as you prefer.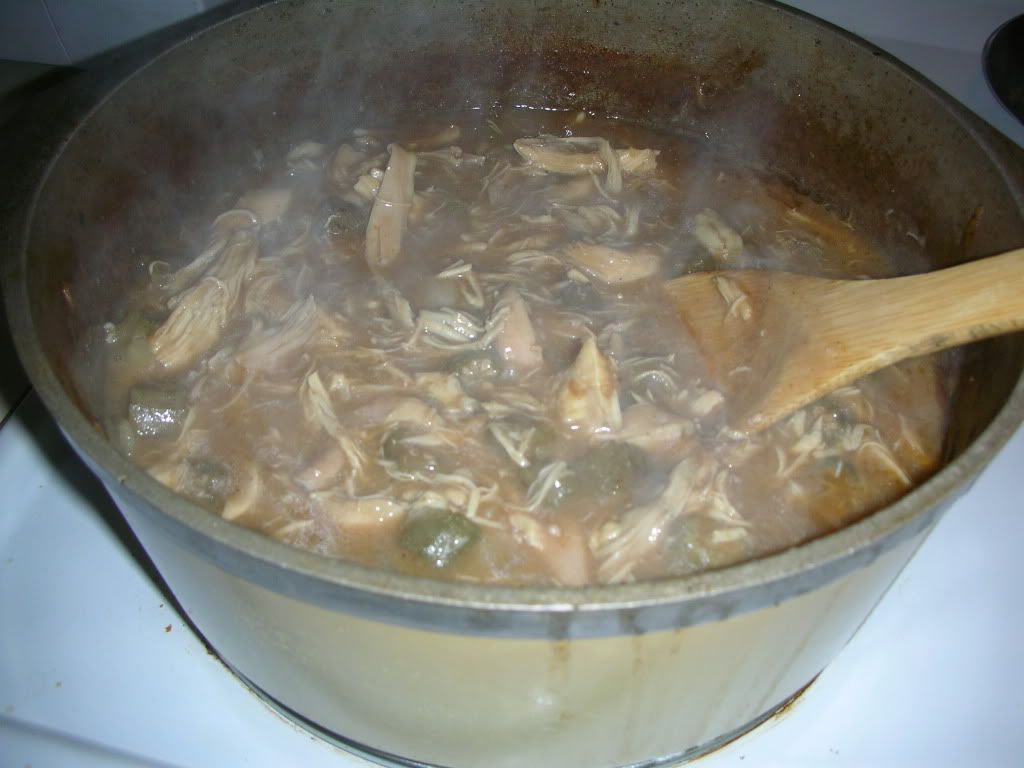 Steaming hot and ready to eat!
Pour the finished gumbo over the rice and enjoy! Even though the rice provides a carb for the meal I also really like rolls or biscuits with gumbo as well. An added bonus is that gumbo freezes excellently! So I popped a couple of servings into tupperware and into the freezer for the next couple of weeks.
I loved this challenge because it finally got me motivated to learn to make a great family favorite! I was also super proud of how it turned out. Completely delicious! I probably won't make this much in the next few months since Georgia will be hot as balls (that's a technical term) but as soon as fall and winter weather come back this will be on the menu much more often.
XO