I'm over halfway done with week 17 (can I get a big HELL YEAH!) and I was excited to do something for my bump update when I found out the bebe is the size of an onion this week. One of my favorite vegetables. After spending a long weekend with the in-laws I only had 2 more days though, and I told the man I didn't think I was going to cook anything with onion, because I just didn't want to spend a lot of time in the kitchen cooking something fancy schmancy. I had been thinking about making a french onion soup, or an onion tart, or something delicious like that.
Well, the man was not having me not doing my update so he suggested I make a blooming onion. Outback is one of his favorite places... mainly because of said onion, so if I could recreate it at home I would pretty much be the best wife ever. You know, more so than I already am.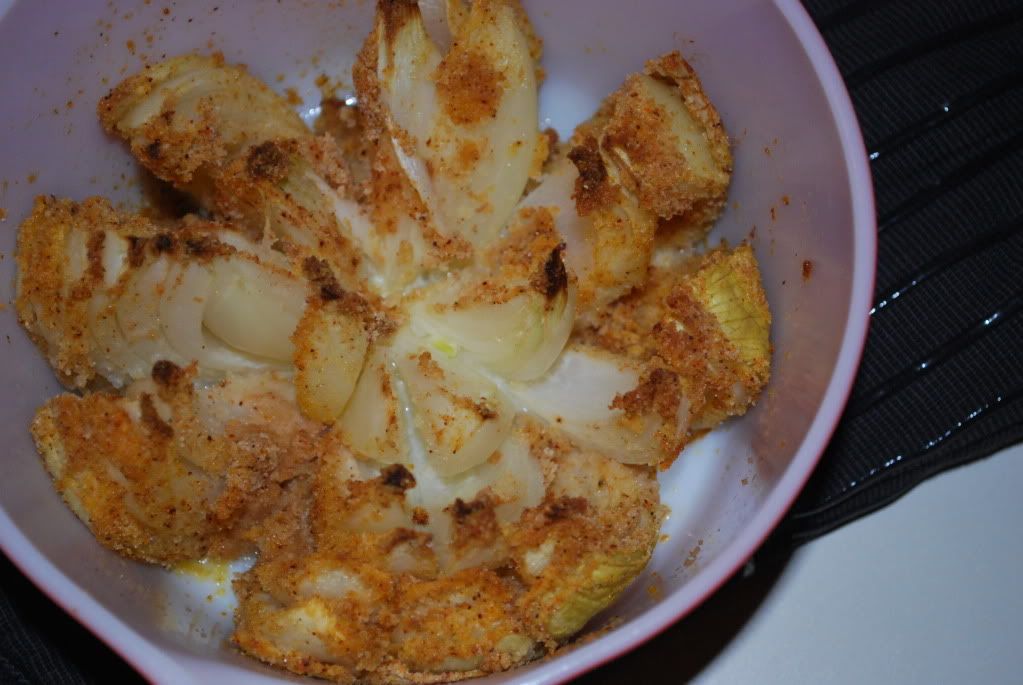 I scoured the internet (read: Looked up recipes for 2 minutes) and found a few recipes for a baked onion. Sounded interesting and possibly a winner. I didn't have any of the exact ingredients needed so I kind of just made up my own little mix. I used
this
lovely recipe as my starting point, and took a few tips from the other recipes that I saw as well.
This would make an awesome appetizer for a small get together and, at less than 250 calories for the whole medium sized onion, it's really a guilt free dish! Granted, those calories are not counting the dipping sauce so, be careful there. This doesn't taste exactly the same as the sinful, fried Outback onion (which you probably don't want to look up the calorie count for) but it has a nice amount of crispness on top, and the creole seasoning I use gives the flavor excellent spiciness. It was really tough to get the breading into all the crevices and whatnot though so I am thinking next time I make this I'm going to go ahead and cut the onion completely, separate all the pieces, bread them, then bake them on a sheet pan. Not exactly "blooming" but that's okay.
Blooming Onion
serves 2-4
1 medium onion
1 egg
2 tablespoons milk
1/3 cup bread crumbs
1 tablespoon Tony Chachere's Creole Seasoning
Garlic powder to taste
Chili powder to taste
Preheat oven to 375 degrees.
Mix the dry ingredients and the wet ingredients in two separate bowls.
Peel the onion and cut the bottom flat, but try not to cut too much off so the core stays intact. Then cut the onion as many times as desired, but do not cut all the way to the bottom. I made 4 cuts, resulting in 8 sections of onion. Ideally the onion will stay together (cause you didn't cut all the way to the bottom, did you?) but I did have a piece or two pop off, I just threw it in later.
After cutting, dip the onion into the wet mixture, try to gently open the "petals" so the mixture gets in all the crevices. Next put the onion in the dry mixture and try to fully coat and much as possible. Like I said, this was hard for me and I think I'll try a different way next time
Lightly grease, with cooking spray, a casserole dish. Place the onion in the dish, spray with a little bit more cooking spray. Bake for 45-55 minutes.
Serve with a dipping sauce like honey dijon dressing, ranch, thousand island or whatever you prefer!
XO