Does anybody else love new months? I know I do.
And I've decided to take this month to really focus on what I eat. I'm a week away from being 4 months pregnant and, well, I'm starting to get concerned about what goes into my body. Don't get me wrong, I've been eating
okay
for the last 4 months, avoiding caffeine, raw sushi, and lunch meat and getting lots of fruits and veggies, etc. At the same time though.... well..... you saw that lemon pound cake,
right
? Yeah. If it's true, you are what you eat, my ass is a lemon pound cake.
Sexy, eh?
Really though, a healthier me will equal a healthier pregnancy, which will equal a healthier wee lil' bebe, which will equal a healthier and happier non-pregnant me, bebe and the man. All
very
positive things.
It probably helps that a lot of the food blogs I frequent are very health focused,
Ms. Smart
,
Angela
,
Emily
and many others! I'm also pretty lucky in the sense that I enjoy healthy food. I mean, sure, I also like pound cake and pizza but I can get down on vegetables, lean protein, and fruit.
Now, I'm not saying I'll be perfect but I definitely will be making more of an effort to eat things with more nutritional value for me and the baby, and by default, the man. For right now a good bit of this will also be on the vegetarian side. I love meat, and will still eat meat when we eat out, but the thought of raw meat in my kitchen still gets me on the queasy side. Blech.
The fake mirepoix
Tonight (surprise to the man!) I actually got back in the kitchen to make something more than baked goods. Yay! It's a bit of a transition meal though. How is that you ask? Well, it does have a quarter cup of heavy cream in it. Yeah, yeah. I know. But a quarter cup for 6 servings isn't the worst thing in the world. And I had the cream left over from the panna cotta. Eating more nutritiously doesn't mean wasting what's already in the fridge!
Tomato Bisque
serves 6
1 1/2 Tablespoons olive oil
1 carrot, diced
1/2 onion, diced
Garlic powder for taste
Salt for taste
3 Tablespoons flour
4 cups chicken stock (or vegetable stock)
2 (14.5 ounce) cans of tomato (fire roasted, diced, doesn't matter)
3 Tablespoons tomato paste
1/4 cup heavy cream
1 green onion for garnish*
Ready to blend!
Heat the oil in a medium saucepan. Add the carrot and onion. The original recipe I found called for celery as well but I didn't have any, if you want to make a true mirepoix add celery. Cook the vegetables until they are soft. Add the garlic powder, salt and sprinkle the flour over the vegetables. Combine until the flour is dissolved. Add the tomatoes, tomato paste and chicken stock. I used one can of plain diced tomatoes and one can of diced tomatoes with basil, garlic and oregano. Simmer for 15 minutes.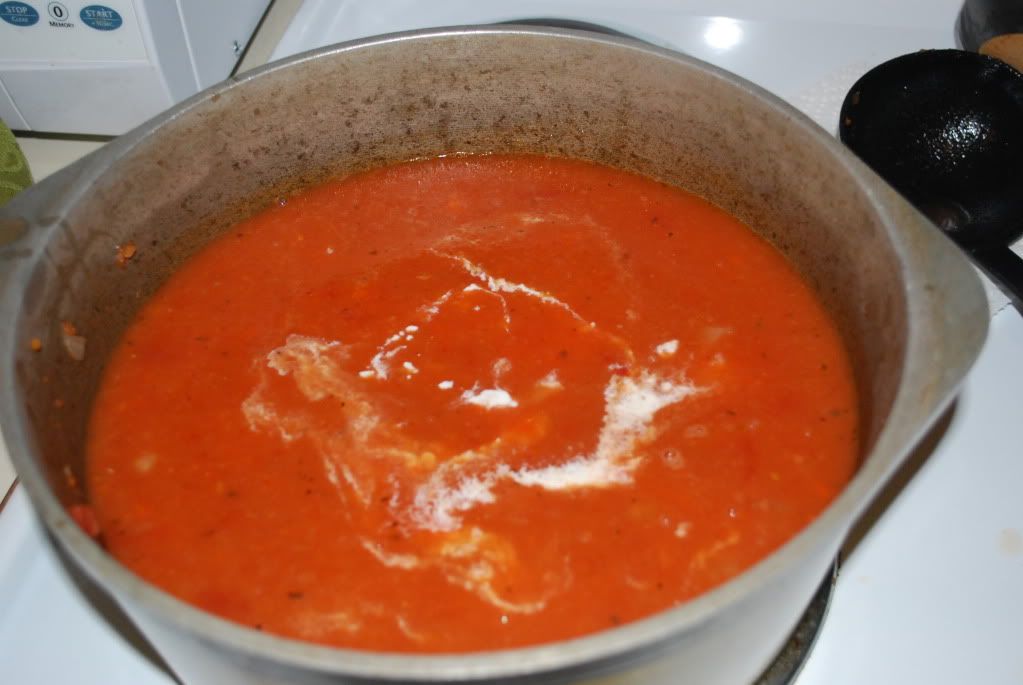 Almost done. Just added the cream.
Transfer most of the solids and some of the broth to a blender. Let cool for a few minutes then blend until smooth (be careful blending hot liquids!). Place back in the saucepan and add the cream. Cook until the soup is heated back through.
Place in bowls and garnish with the green onion.
*The green onion is optional but I highly recommend it. I tasted the bisque before serving it and then tasted it with the green onions while we were eating it. They give the flavor a lot of extra zing! Way delicious. I also served it with some ghetto garlic bread which I badly burned under the broiler.... I should apparently not be allowed to broil thing. Oi.
**
**The man went for thirds (thirds! He likes it, he really likes it!) and just threw two pieces of bread in there with the bisque. It was quite good this way as well. He's creative like that.
XO