But not just for progress sake, right Hermione?
Big news in the .baking and wine. kitchen tonight folks. I cooked some chicken. Yeah! Back on the meat bandwagon. It was delicious chicken too. Very easy and didn't make me sick at all. I added it to a huge salad the man and I ate for dinner. Also for the salad, I made my first homemade raspberry vinaigrette. Rawr. It was really exciting to make my own dressing. I totally see why people do this, and I will now be one of those people.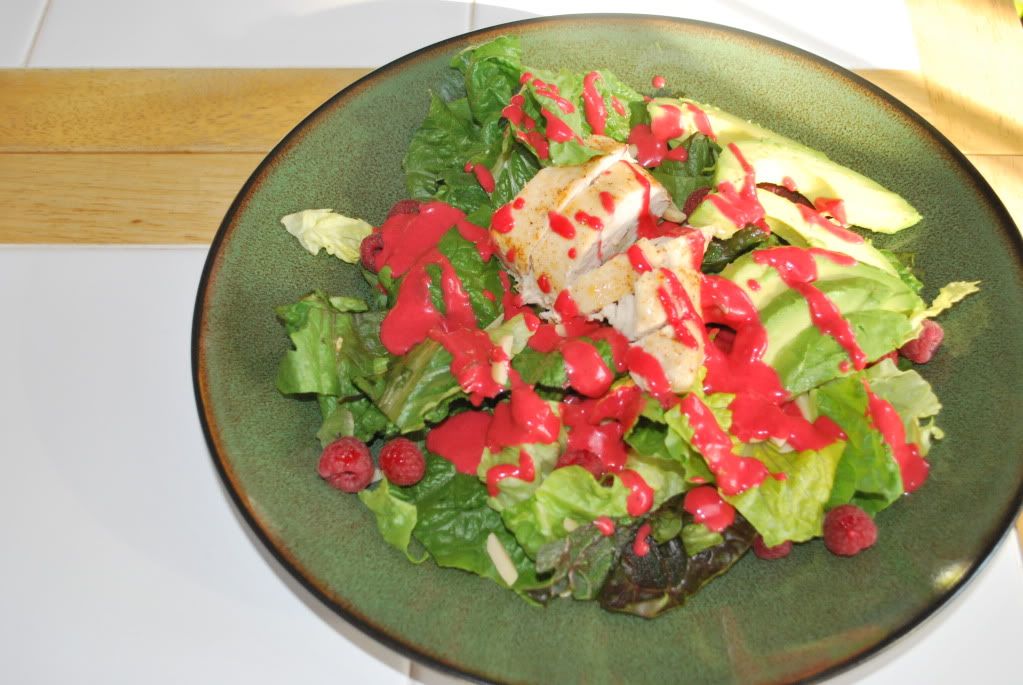 No exact recipe for today's meal but I will tell you how I bake my chicken, the basic premise of the vinaigrette, and the other delicious things I added to the salad.
First, chicken. I didn't cook chicken for the longest time because I was so terrified of under-cooking it. Nothing like some salmonella to ruin a dinner, eh? Once I figured out how truly easy it was to bake a perfect chicken breast though I made them all the time. Preheat your oven to 350 degrees. Place your chicken breast in a baking dish, season to your liking (I always put Tony Chachere's on it) then drizzle with olive oil. I also rub the olive oil on both sides. Cover the dish with aluminum foil and bake for 40-45 minutes. Perfect chicken breast, not even kidding.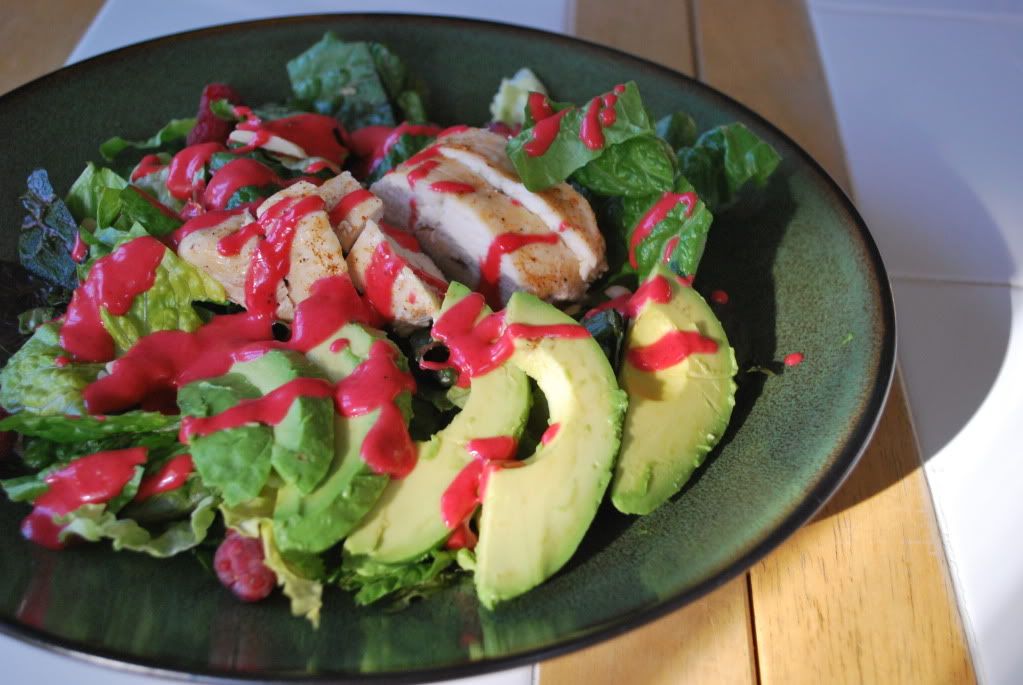 One thing I've been able to eat without fail has been fruit. I've been craving it like a crazy woman. When walking through the produce section earlier this week I saw a package of raspberries, which I never buy, but I thought it would be really nice to do something with them so I grabbed said fruit and a bag of salad. Now, the vinaigrette. Wow. The color alone was stunning! Also, the measurements I used provided more than enough dressing for 4
huge
salads, and could easily be for 8 smaller salads as well. I found a recipe for the vinaigrette that consisted of 1/2 cup raspberries, 1/4 cup olive oil, 2 tablespoons lemon juice and 1 tablespoon honey all blended together. This is what I used but I will be trying something different next time. The dressing was good but there was just a little something missing. Some small component wasn't there. I would love to hear any ideas as to what to change!
I took the chicken, the greens, and the vinaigrette, added slivered almonds, a few whole raspberries, and an avocado and pretty much made like Captain Planet.
With these powers combined I am huge, giant, delicious, dinner salad! I served it with an equally delicious sparkling organic pear juice.
The man said it was one of the best things I've ever made.... not sure how I feel about a salad being one of the best things but I'll take it!
XO