Update on the "bump": This past week the baby was the size of a navel orange! I thought hard about what to make with orange and came to a conclusion thanks to the man.
After making the honey panna cotta with strawberry gelee, or as he called it "strawberry custard," he was quite smitten with it. He requested I make it again, and soon. It's rare that he actually requests things, he usually just dutifully eats what I put in front of him. He's a good husband like that. So, I wanted to reward him by making panna cotta with orange gelee. I wanted to try something a little bit different for this attempt, and boy did I pay for it.
I found a dairy-free coconut panna cotta recipe that I thought sounded easy, delicious, and wouldn't require me to buy anymore heavy whipping cream. Well..... I'm not really sure what I did wrong but as it was chilling the coconut separated, as you can see in the pictures, and it just did not turn out well. At all.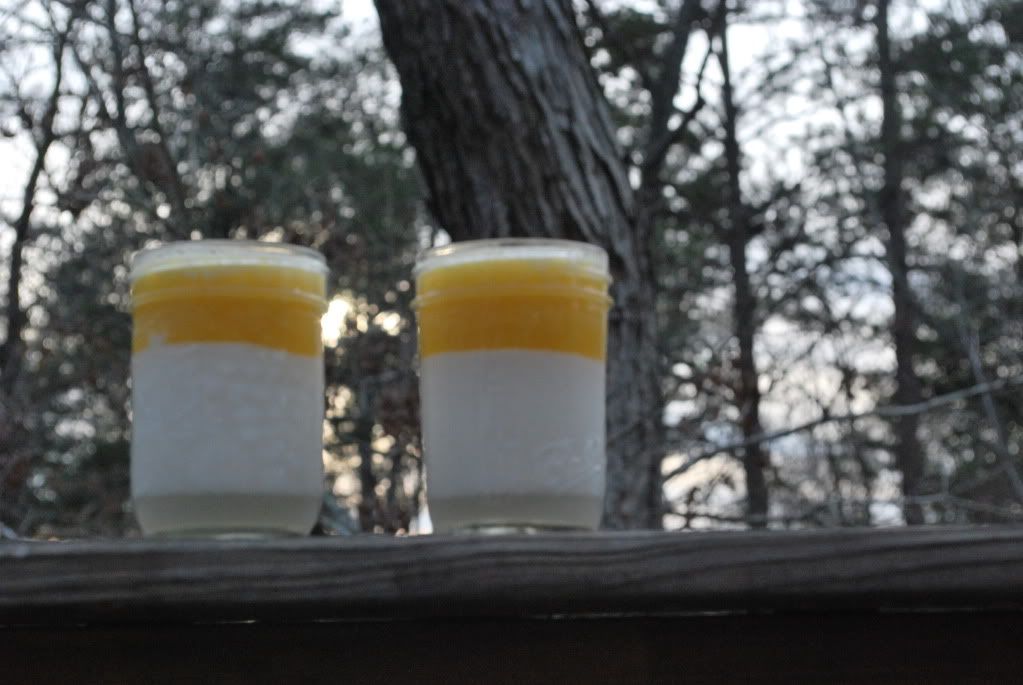 It also had a slightly weird smell so, I honestly didn't really even eat any of it. Ha. According to the man it had the consistency of yogurt. He said the coconut panna cotta was 1 star out of 5 (ouch!) but the orange gelee was 3.2 stars out of 5. Whereas the original honey panna cotta was 4 out of 5 stars. It's good to have an honest critic! I could tell by looking at it the coconut was not going to be up to par.
At least it looks pretty! Ha!
So, folks, what did I do wrong? Anybody have any ideas? Not enough heat? Too much heat? Bad coconut milk? From now on I'll just stick to the full dairy version, when the man requests it. I'll post the recipe for the orange gelee as I perfect it and get the entire dish to taste good!
XO