Those of you on my Twitter are already aware of this but for the rest of you, my November goal is to get this little ol' blog cooking again! I've missed it! Miss Tyler is getting better and better, which gives me time to plan, cook and write. I'm very happy about that.
So, for my coming back meal I have something pretty damn tasty to share.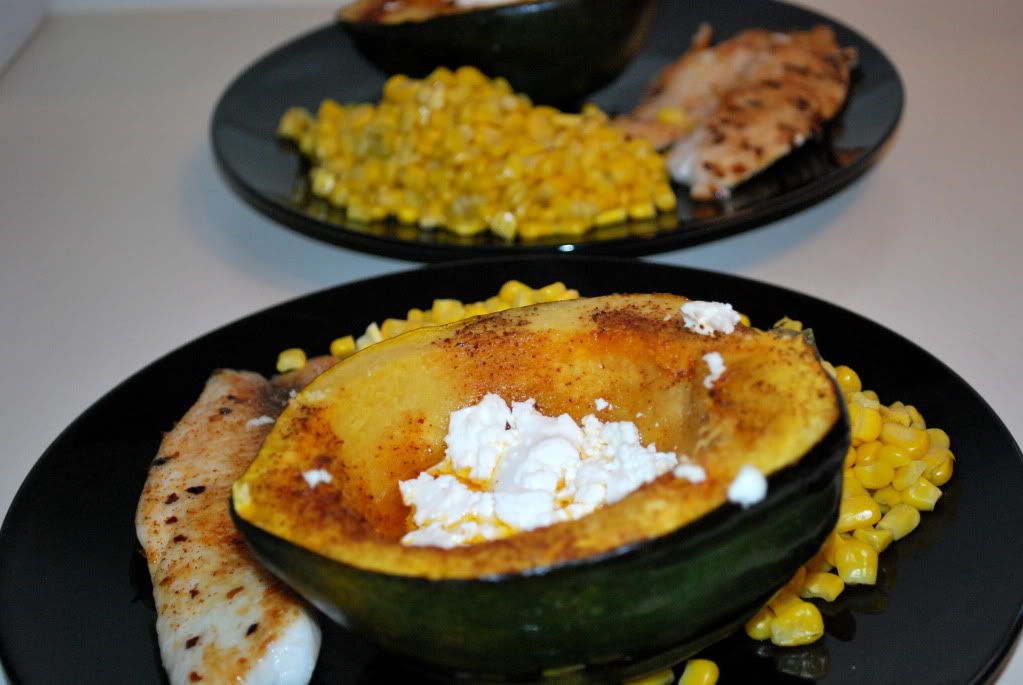 I bought an acorn squash last week, with plans to just cook it the classic acorn squash way- roasted with butter and brown sugar. But I have already shown y'all that recipe. So, I think we should switch it up. I also have some goat cheese in the fridge. Yeah, I think you know where I'm going with this.
The tartness of the goat cheese and the sweetness of the squash is a pairing I will never get tired of. I found it best to rake all of the squash from the rind and mix it with the goat cheese before eating. It was delicious! I served it with pan fried tilapia and corn.
Goat Cheese Stuffed Acorn Squash
serves 2
1 acorn squash
2 ounces goat cheese
Olive oil
1 Tablespoon butter
Garlic salt, chili powder and pepper to taste
Preheat oven to 350 degrees.
Cut the acorn squash in half and remove the seeds. Place 1/2 Tablespoon of butter in each half, drizzle with olive oil and season with garlic salt, chili powder and pepper. Bake for 40 minutes, then place 1 ounce of goat cheese in each half. Bake for another 10 minutes.
XO