The pumpkin band wagon!
All 5 of you who read this here blog probably already know this but, two months ago I moved to Georgia from Anchorage, AK. It was a 13 day, 5,260 mile, country-crossin' adventure. When we got to Georgia the man asked me what I wanted to do.
I said what any sane person who had been living in Alaska for 3 years would say: "I want to go to the Olive Garden." They don't have it up there in the great white north, don'tcha know?
Oh yes. I have waited tables at this fine establishment, and although it caused a deep and bitter hatred for people who eat at restaurants, it caused an ever lasting love for all things OG.
So we went, ate our delicious meal and then the man splurged. He went for something I had never even heard of, but that he knew he would love. He got a big ol' slice of pumpkin cheesecake. Upon taking his first bite he proclaimed it to be the most delicious thing he had ever eaten.
Until tonight that is.
Because tonight is his birthday. I have Braised Short Ribs... um, braising... but this morning (at 6:00AM I might add, because I am that awesome of a wife) I made the
piece de resistance
. I made a pumpkin cheesecake. But not
just
a pumpkin cheesecake. I made
the
pumpkin-
chocolate
cheesecake.
Since the ribs will take another hour or so, and since he's the birthday boy, he decided he was going to eat dessert first, which in my opinion is always a wise decision. He took the first bite. I waited on bated breath....
His eyes opened, ever so slightly, he looked at me and said, "I think this is even better than the OG's." And then he scarfed the whole piece in about 2.1 seconds. And then I ate a piece and said, "Oh, you're not just being nice, that pumpkin-chocolate cheesecake is the most glorious dessert to ever enter this home." And then I scarfed my piece in 3.4 seconds... I have some self-control.
Really though, this cheesecake hits all the right notes. It smells of pumpkin pie, it tastes smooth and creamy on the tongue, and there is a beautiful chocolate undertone. So good. I used a mash-up of numerous recipes so I'll give you the one I created. My cooking time was a bit off though. I had to cook this bad boy for an extra 40 minutes... it would just
not
set! But it did, and it cracked, but you know what? My husband thinks his birthday pumpkin-chocolate cheesecake is better than the Olive Garden pumpkin cheesecake. And that's all that matters.
I won this throwdown, OG
!
The round-up
























I call this "Le crack de contrast"
Sara's "Better Than the OG" Pumpkin-Chocolate Cheesecake
serves 8-10
Crust:
1.5 cups gingersnap cookies, finely ground
1/8 cup sugar
5 tablespoons butter, melted
Filling:
4-6 ounces chocolate (any, I used about 1.5 oz dark and 3 mini Hershey milk chocolate bars from Halloween)
1 tablespoon butter
24 ounces cream cheese, softened (3 packages)
1 cup sugar
3 tablespoons flour
6 eggs
1 teaspoon vanilla
1.5 teaspoons pumpkin pie spice
15 ounces pureed pumpkin
Preheat the oven to 500 degrees.
Combine ground gingersnap cookies (I put mine in a ziplock bag and smashed the hell out of them with a rolling pin), 5 tablespoons melted butter and 1/8 cup sugar. Press this into an even layer in a 10-inch spring form pan. Set aside.
In a large bowl, or your mixer bowl, combine cream cheese, remaining sugar and flour until creamed. Add in the eggs, one at a time, the vanilla, pumpkin spice and pureed pumpkin. Beat on low until combined. Put chocolate in a microwave safe bowl and microwave until melted (yeah, ghetto, whatever, it worked) add roughly 1 cup of the pumpkin cheesecake mixture to the chocolate. Mix thoroughly, then pour chocolate mixture over the crust. Put in the oven for 10 minutes. This will make the chocolate layer set slightly, so it doesn't go all over the place when you pour the plain pumpkin cheesecake mixture in. After 10 minutes take the pan out and carefully pour the remaining mixture over the chocolate layer.
The crust
Place back in the oven, on 500 degrees, for 10 minutes. Reduce the heat to 200 degrees and cook for 30 minutes. Now this is where it got tricky for me. I followed instructions telling me to put a foil tent over the cheesecake and bake it for another hour at 200 degrees. After said hour it was not set at all so I baked it for another 40 minutes without the foil tent, at 300 degrees, and it came out perfect. I can not attest that this would work but I would suggest, after the 10 minutes at 500 degrees, to bake it for a whole hour at about 225, without a tent. Check how set it is after that and if it's not then cook for an addition 30 minutes with a foil tent. Continue to cook at a low heat until it is set.
Turn the oven off and open the oven. Allow the cheesecake to cool in the oven for 20 minutes, remove from the oven and let cool on the stove top or a wire rack. Then refrigerate for as many hours as possible. This can be made a few days ahead of time.
You can tell the cheesecake is set when you bump it and the middle slightly jiggles. It shouldn't slosh all over the place though.
Another tip, when you're baking the cheesecake put a casserole dish filled with water on the other oven rack. Supposedly this will help the cheesecake to not crack. As you can see, it didn't help mine, but I think the weird cooking times and the foil tent is what caused it to crack. And again, it still tastes just as good with a crack in it.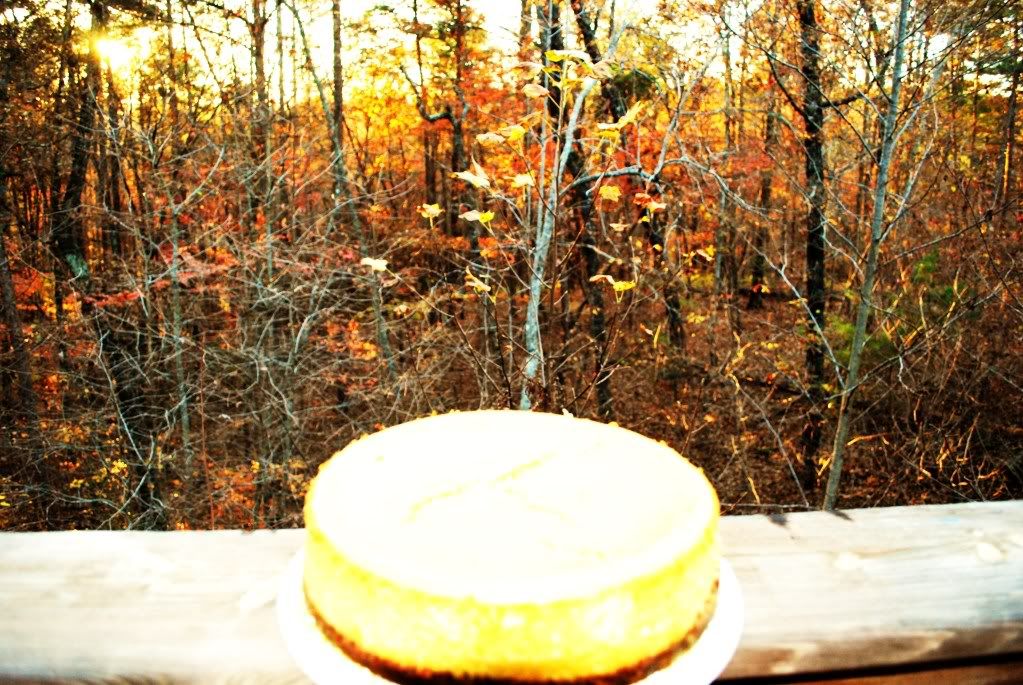 "Le crack de contrast rouge"
So, that's all there is to that. This was my first cheesecake and I'm pretty damn happy with how it turned out. I will be making this again for Thanksgiving (along with lots of other goodies!) so I'm glad I know how delicious it is. But now the house smells like braised short ribs so, I must attend to those, and I will tell you all about them soon.
P.S. Happy birthday to my incredible husband, Brian! I love you!
XO