Yeah!
So, I decided for this lovely Sunday afternoon meal that I was going to make roasted red bell pepper soup. Completely from scratch. And I have to say, I am not disappointed. This recipe was easy and
fun
. It is also one of my new favorites. It was so
flavorful
. It would be great paired with a grilled cheese sandwich, or a veggie panini. We just ate it all on its own and it was more than filling enough.
I used a recipe from food network, minus the cilantro. I halved the recipe, and instead of a set number of large red peppers I just used a bunch of little ones from the farmer market. It turned out beautifully.
Cream of Roasted Red Bell Pepper Soup
serves 3
6 small red bell peppers
1 tablespoon butter
1 cup chopped onion
2 cloves minced garlic
1/8 cup tomato paste
3 cups chicken stock
1 cup heavy cream
Salt and pepper to taste
1 cup sweet corn kernels, lightly roasted
You want to start by roasting your bell peppers. There are numerous ways to do this, but I used the broiler on my oven. This was the first time I used the broiler and the first time I roasted peppers, and I have to say it was super satisfying, in a really weird way. Preheat your broiler. Remove the stems from the peppers, halve them, remove the seeds and membrane then place them on a baking sheet with the skin side up. Put them under the broiler until the skin is charred. I think it took mine maybe 12 minutes or so. Take them out of the oven, place them in a ziplock bag and put them in the freezer for 10 minutes. Then take them out of the bag and pinch and peel the skin off. It should come off very easily. And, a word to the wise, I didn't realize this but roasted red bell peppers will burn your hands just like jalapenos do! I learned this the hard way, so you might want to use gloves. Chop the peppers and put them aside.
In a large pot saute the onion and garlic with the butter until the onions are soft. Add the peppers, tomato paste and chicken stock. Bring to a boil, then reduce to a simmer for 10 minutes. Then stir in the heavy cream, salt, pepper, and cornstarch, or other thickening agent. Let simmer for 5 more minutes. I used some cold water and flour and my soup didn't really thicken up much, but was still very delicious.
Take the soup off the burner and let cool for a few minutes. In small batches place soup in a blender, or if you have an immersion blender that would be even better. If you're using a blender, do not fill it more than halfway when working with hot liquids. This would equal big mess and a lot of pain! This is not something I learned the hard way, luckily. I found the best way to blend everything was to use a slotted spoon to get out all of the pepper and onion pieces, then add a bit of the liquid and blend. Then I used a ladle and just did a few batches of the liquid soup, just for good measure.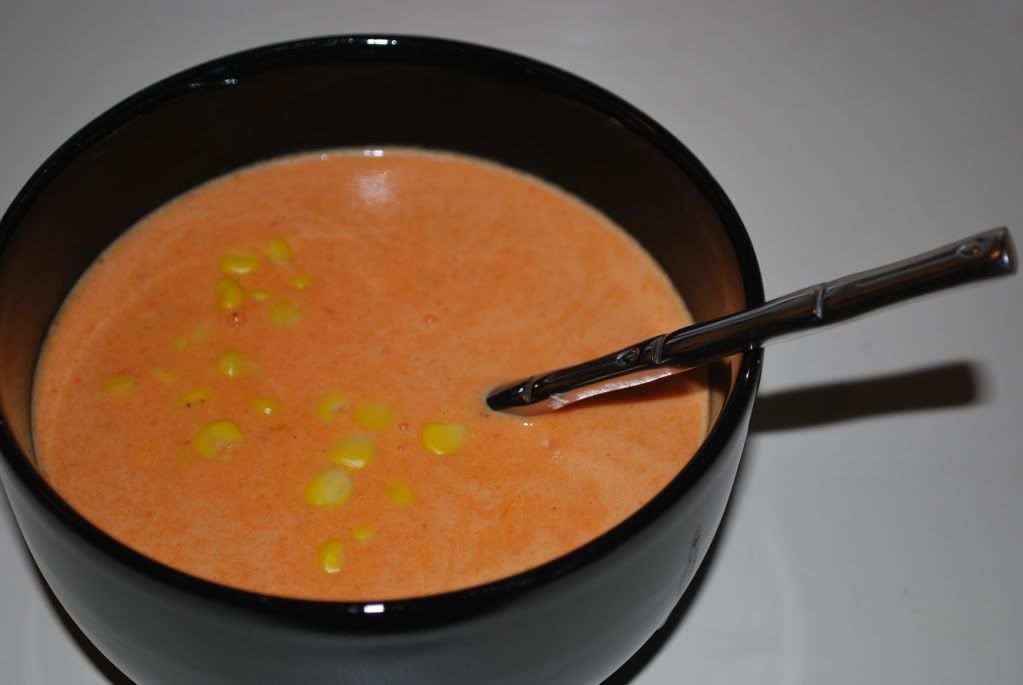 Before serving garnish with sour cream and the corn kernels.
Cook on!