I'm a sauce girl. I love sauce. Pizza sauce. Pasta sauce. Sauce for enchiladas. Sauce for chicken, fish, beef. Sweet sauce for desserts. Really, I've never met a sauce I didn't like. With this in mind I decided to attempt a new sauce, a
cream
sauce. I usually stick with red or verde sauces. I paired this with roasted chicken breast and whole wheat tortellini with sauteed leeks. It was
superb
. I'm imagining it would be pretty good on fish as well.
I only have pictures of the first half of said sauce making, however, because...well....um.... we kind of ate it too fast for me to take pictures.
Yeah
. Sorry guys. Here is a most delicious recipe though, for creamy pesto sauce.
Step one of this sauce (the step I took pictures of) was making a basil pesto. Now, yes, you could just go buy pesto. I decided to make my own because I had some basil, and the pesto in the store has sugar added. Why the heck would you need to add sugar to basil pesto? It made no sense to me. I adapted my recipe from the food network recipe. I omitted pine nuts, added a little extra garlic, and only made a half recipe.
Basil Pesto
makes 1 cup
2 cups packed fresh basil
2 cloves garlic
2/3 cup olive oil
Salt and pepper to taste
1/2 cup freshly grated Pecorino cheese
Combine basil and garlic in food processor, or be like me and use a blender, pulse until coarsely chopped. Add in the olive oil, blend until smooth. Add the cheese, pulse until combined.
I then put it in this handy dandy little container and used half of it in this sauce.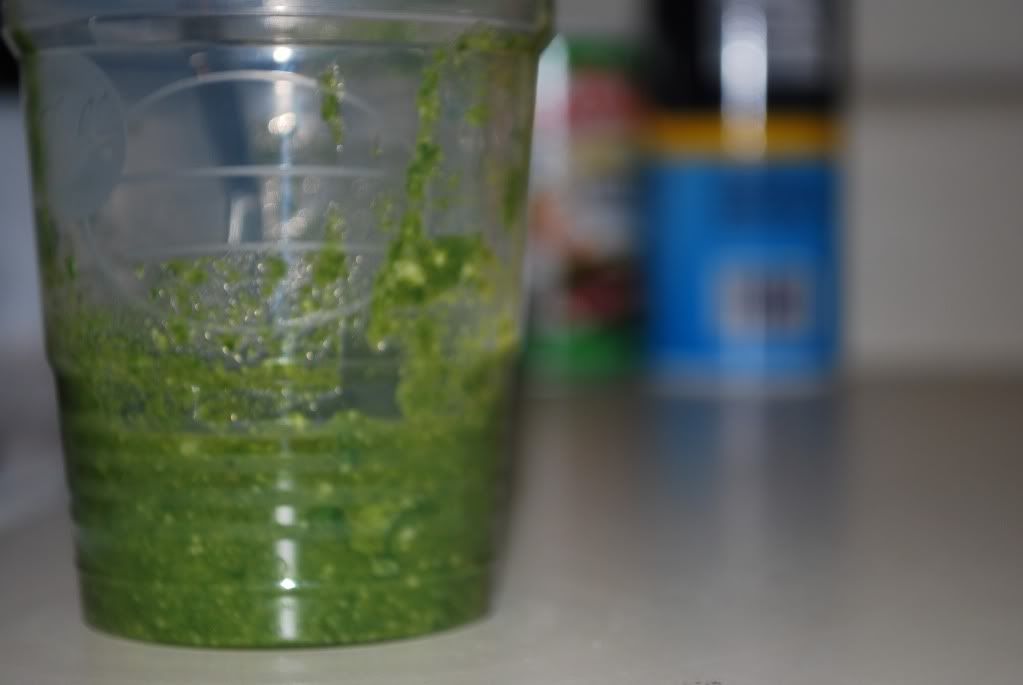 Creamy Basil Pesto Sauce
makes roughly 4 servings
1 cup chicken stock
1/2 cup cream cheese
2 Tablespoons basil pesto
Salt for taste
Combine all ingredients in a small sauce pan. Whisk together and heat until combined. Drop to a simmer for roughly 3-4 minutes. Pour over desired pairing and serve immediately.
Cook on!