So, while hiking with the Man yesterday I decided it would be nice to have a little consistency in my posts. And thus became
Side Dish of the Week
. Very official sounding, no? Let me know what y'all think over the next few weeks and we'll see what becomes of this idea.
Tonight I made a very easy dish of oven-roasted potatoes and paired them with leftover roast and gravy I made this weekend. Upon perusing a local farmer's market I found these potatoes and they looked far too good to pass up.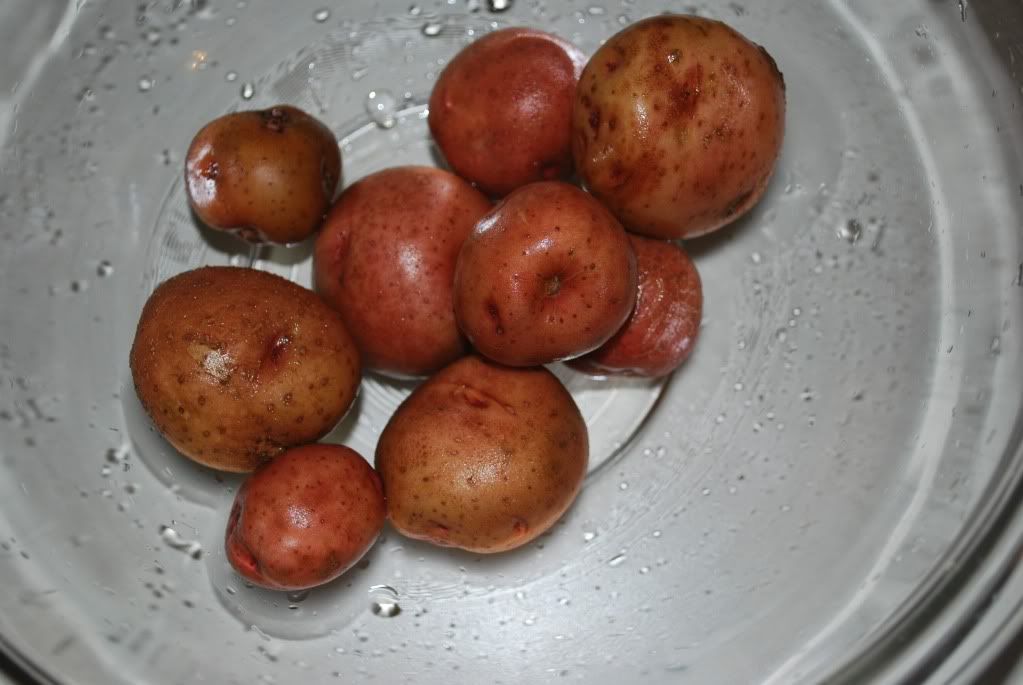 I learned how to make this potato recipe quite a few years ago from my then roommate Hope. They are super tender out of the oven and provide a great carb to go with meat, fish, or salad. When Hope makes them she uses a Lipton
Recipe Secrets
spice mix, which always turns out delicious. I usually just use whatever spices I see fit that I have on hand. Tonight was just a simple sprinkling of salt, pepper and garlic powder. I would say though that you could easily add chili powder to make it spicier, fresh herbs to liven it up, or even cheese after it's out of the oven if that's what you're into.
Oven-Roasted Potatoes
makes 2 servings
4-6 small potatoes, or 2-3 large potatoes
1 tbsp olive oil
salt, pepper and garlic powder for taste
Preheat oven to 350 degrees.
Clean the potatoes with some sort of scrubbing brush. Cut them into small sections, bite size or a tad bit larger. Place them on a baking sheet or shallow baking pan. Drizzle the olive oil over them then add the salt, pepper and garlic powder. Mix lightly and bake until tender. Usually 35-40 minutes depending on how thick the pieces are.
And that's it. One of the easiest, albeit time-consuming, side dishes ever. Enjoy!
Cook on!