Good evening! Due to the Man's crazy work schedule, I have the night to myself and decided to take advantage of it. I recently joined the Daring Kitchen. The first challenge I should have done, however, was meant to be posted on the exact day our household goods came in. Great timing, eh? Needless to say, I decided I didn't have time to worry about the challenge. Now a week later things have calmed down, the house is mostly organized, and as stated, I have some time to kill.
The Daring Cooks challenge was food preservation, by way of freezing or canning. And the host, John, from
Eat4Fun
, provided three recipes to try in either of these methods. I have decided to make oven-roasted tomatoes for the freezing method.
The recipe is really straightforward. These are the measurements I used, you can adjust them to your taste.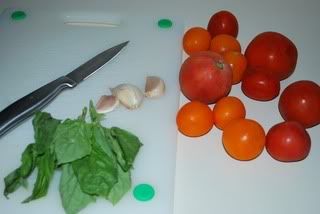 Oven-Roasted Tomatoes
makes 16 ounces
1 pounds tomatoes
5 leaves of basil
3 cloves of garlic
1 tbsp olive oil
salt for taste
Preheat oven to 325. Core the tomatoes, then cut them into halves or thirds, depending on how big they are. Put them into a large bowl. Cut the basil into small pieces, add to bowl. Mince the garlic... or cheat like me and use a garlic press. Combine in bowl. Add olive oil and a generous sprinkling of salt. Mix everything together until all the tomatoes are coated with oil. Put on a baking sheet or in a baking dish and cook for 50 minutes to an hour, or until the tomatoes are slightly browned.
If you are going to freeze these, let them cool before placing them in the freezer. It's also always a good idea to put a date on the container you have them.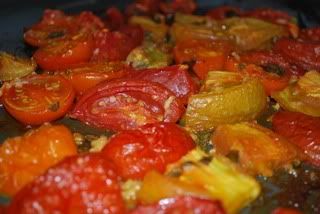 I was really bummed that I wasn't able to participate in this challenge for the correct date but when I went to the farmer's market last week and saw a huge variety of tomatoes as well as fresh garlic I knew I wanted to try it anyway. It was super easy, filled the kitchen with a delicious, sweet, garlicy smell, and can now be used on toast, pasta, soup or anything else we see fit.
Cook on!