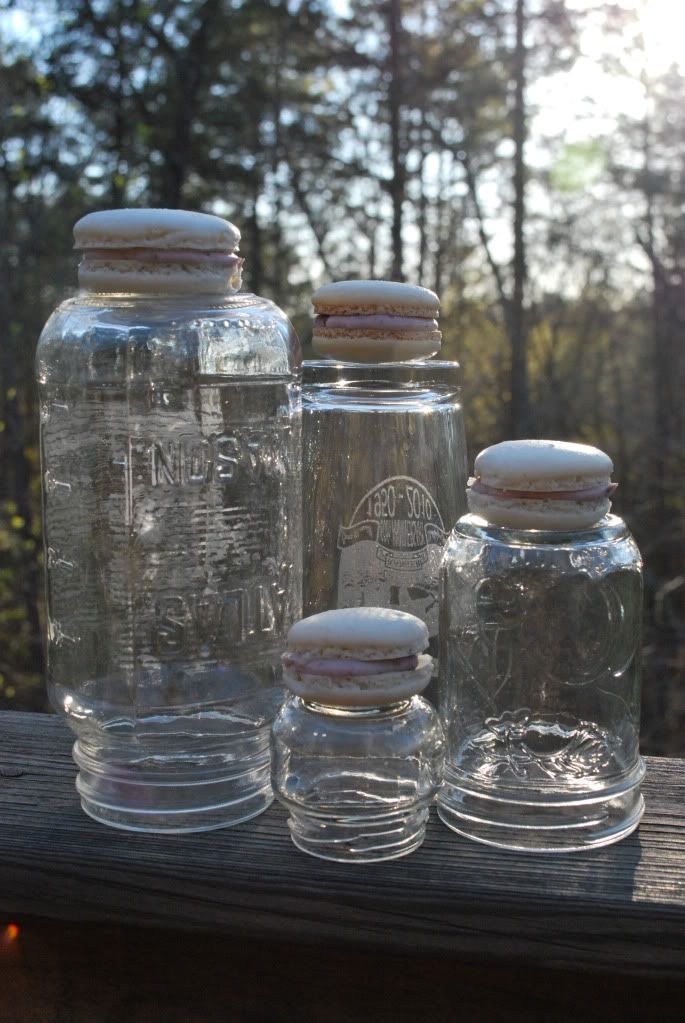 I have a very fun announcement for today! Well.... it's only fun if you don't already know the news. And I've announced it to pretty much everyone so, there will probably only be a few of you who didn't get the memo. Regardless, it's time to announce the sex of the baby! We just found out last week and I was very excited to do something food related to announce it on the blog.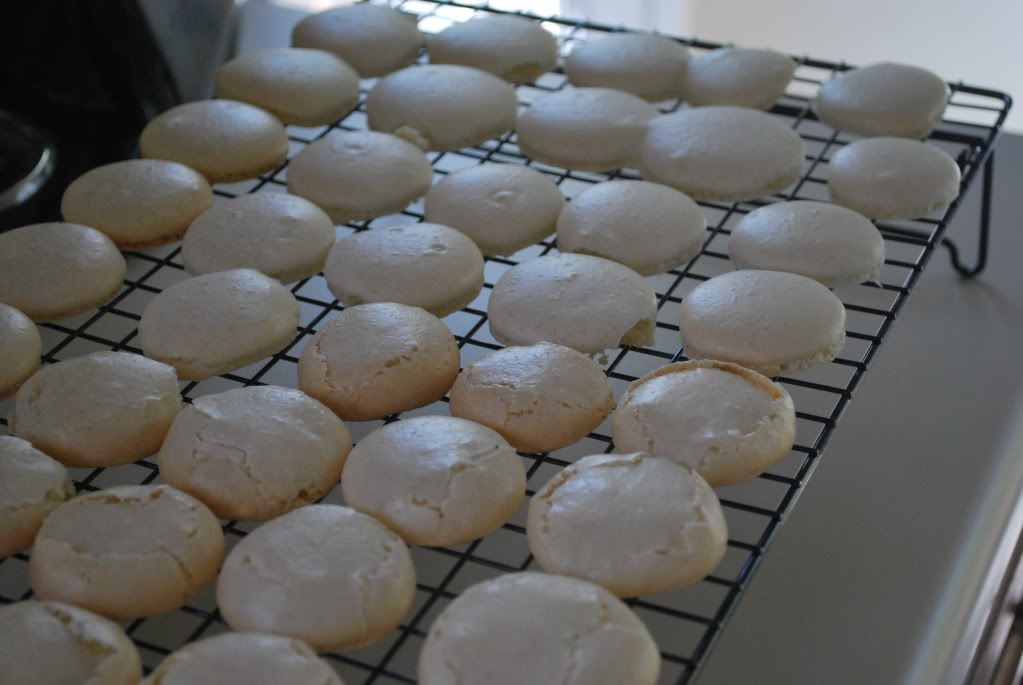 The crumbled ones and the good ones. They're friends.
I decided to do something that has been on my list for awhile now, macaroons! Way exciting, right? The entire food blog community is all abuzz for macaroons. According to the general consensus, macaroons are tough to make because they don't always get their "feet." The general consensus was right, whew. Out of my whole batch I would say about 1/3 just kind of crumbled, and did not get feet. 1/3 got feet but did not really set up well so they broke when I went to move them from the cookie sheet to the cooling rack. The last third got perfect feet and looked kick ass! They all tasted delicious though, and of course we ate the rejects.
Now, you might be wondering how macaroons have anything to do with the sex of the baby. They don't. But the filling does! I used a quick mixture of marscapone cheese with.........cherry preserves!! To make the filling a nice PINK color for a GIRL!!! Woot!
Almond Macaroons
makes roughly 30 shells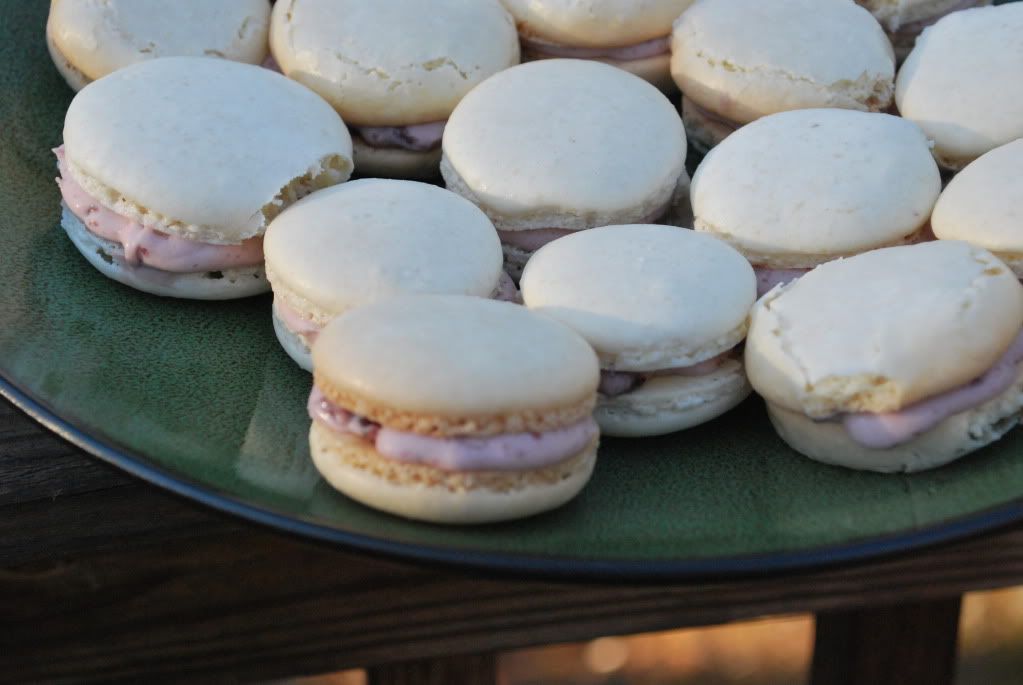 1 1/4 cups confectioner's sugar
1 1/2 cups almond flour
3 large egg whites
Pinch of salt
1/4 cup granulated sugar
1/4 teaspoon almond extract
First, set the egg whites out so they become room temperature, this will help when whipping them. I left them out for about 2 hours before making the macaroons.
Preheat the oven to 300 degrees Fahrenheit. Line two cookie sheets with a silpat or parchment paper. Sift the confectioner's sugar into a medium bowl. Whisk the almond flour into the bowl as well. Set aside.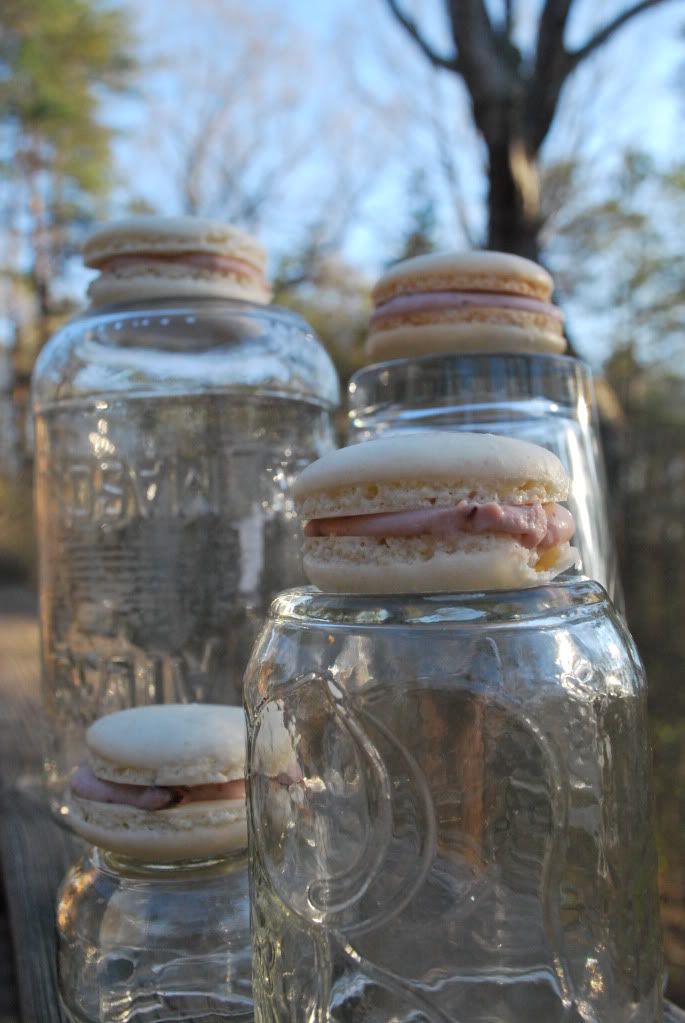 Whisk the eggs on medium speed until foamy. Add the salt and granulated sugar. Continue to beat until soft peaks form. Fold in half of the dry ingredients until incorporated. Add the almond extract and the rest of the dry ingredients. Transfer to a pastry bag fitted with a tip that has a large, round opening. Pipe the mixture onto the cookie sheets in roughly inch wide circles, or slightly larger if you prefer. Be careful to give them enough room, they will spread a little bit. A couple of mine wound up touching but they broke apart easily when they were done baking.
Bake for 20 to 25 minutes, rotate the cookie sheets halfway through. Let cool for a few minutes then transfer to a wire rack to cool completely. Match up the cookies with similar sized cookies so each one has a pair. Place a small amount of your preferred filling onto one cookie, then sandwich it together with the other cookie.
Like I said, I used marscapone and cherry preserves. How much of each just depends on personal taste. I really liked this filling because the marscapone and cherry wasn't too sweet and balanced out the sweetness of the cookies. I also liked it because it was PINK, of course!
XO